---
Photographer Daniel Rosenthal explains his photo: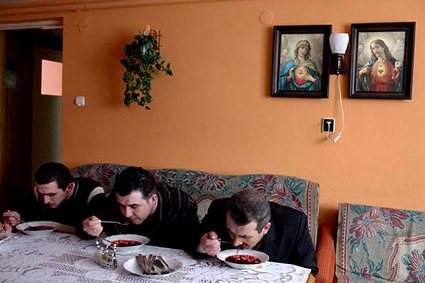 "This is a photograph I shot last year during an assignment for GEO Magazine on demographic changes in Europe due to migrant workers. Poland was the first part of the story. I arrived in the tiny Polish village of Plaszkowa on Easter Monday (the most important Polish feast day) during heavy snowfall to meet Marian Tarasek for the first time (49 years, on the right). It was the day before he had to travel back to Ireland where he found a job as a construction worker, one of the many thousand Polish migrant workers there. Marian was very shy and thoughtful and it was obvious that having to leave his loved ones for another month made him sad. We sat down in silence underneath the religious icons on the wall. Suddenly his sons Damian and Mateusz came along and Marians wife served the traditional Polish beetroot soup, that's when everything fell into place and the situation transformed into a biblical scene, embodying believe, humility and tradition mixed with everyday life."
---
Open Call for Human Rights Art [English & Polish]
Invitation to participate in "STAND-UP. Art about Human Rights" project:
Presentation:
Connecting aims and activities of two organizations — One World Association, which acts as a part of the Service Civil International organization, and Poznan Academy of Fine Arts Student Society in Poland — we want to present different points of view on Human Rights issues and raise awareness about them by presenting art works of activists - artists with different experience, from different fields, cultures and societies.
Besides exhibition we are planning also other punctual events like, for example, evening film projections, outdoor actions and workshops. "STAND-UP. Art about Human Rights" project will respond to the growing needs for acceptance and respect for diversity, dialog and social reflection.
What we are looking for:
We are interested in art works / projects / documentations / other actions which are somehow connected with Human Rights problems which will be exhibited in gallery space in Poznan (Poland) during first part of March 2009.
---