---
Ten Days for Oppositional Architecture
"Ten Days for Oppositional Architecture" takes up the task of exploring possibilities and conditions of a socially committed architectural practice. Therefore the narrow boundaries of the profession have to be left behind. We hence invite activists, geographers, architects, planners, and economists representing different critical approaches to discuss and develop concepts and practices that not only try to oppose and challenge the capitalist mode of production of space, but also try to go beyond it – strategies of de-commodification, re-appropriation and alternative production of space. We will look at already existing spatial actions of resistance as well as search for possibilities to further theorize them: How can these strategies and alternative practices be turned into social and political forces towards post-capitalist spaces?
---
Bartered States: Contemporary Art from El Salvador
On May 1, 2009, The Bronx River Art Center (BRAC) will open BARTERED STATES, a group exhibition of new, site-specific works by four contemporary artists from El Salvador—Ronald Morán, Simón Vega, Walterio and Danny Zavaleta. The four artists will travel to New York City for two weeks to create new works within the sociopolitical context of the Bronx and NYC. In September 2009, the second leg of this project will take 3 NY-based Latin American artists (Karlos Carcamo, Esperanza Mayobre and Diego Medina) to El Salvador to create new works for an exhibition at MARTE.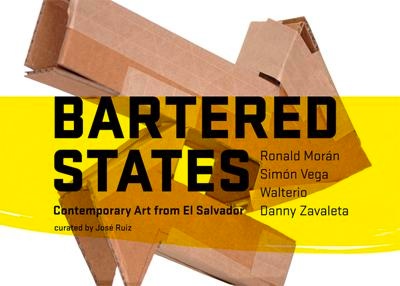 BARTERED STATES aims to expose the cultural relationship between the US and El Salvador, as each country enters a new era of political and social change. New Yorkers will be able to witness the psyche of a contemporary art scene, which started during the Salvadoran Civil War of the 1980s. The connection between these two countries is deeply embedded in the US support of the Salvadoran Army, which fought against the leftist guerrillas. The residual American effect is seen by many as the cause for Salvadoran illegal immigration, the major influx of illegally-earned US dollars into El Salvador, or the rapid growth of Salvadoran gangs, many of whom were former guerrillas.
Much of this activity comes to life through a series of underground exchanges. By investigating co-existence, dependency and reciprocity, the term to barter is deconstructed in order to dispel the notion that every exchange, even if agreed to by both parties, preserves mutual interests and expectations. When stripped from its material function (the exchange of tangible goods and services), the act of bartering can also uncover the impossible balance of power, whereby one party is at the mercy of the other, or is forced to act, stall or defend itself in order to survive. In El Salvador, these physical and psychological implications can be aligned with the realities of gang violence, the black market, immigration, political dissent and poverty. The artists in this exhibition re-interpret this complex world with critical markers that humanize the social conditions that inspire them to create art.
---