---
Ten Days for Oppositional Architecture
"Ten Days for Oppositional Architecture" takes up the task of exploring possibilities and conditions of a socially committed architectural practice. Therefore the narrow boundaries of the profession have to be left behind. We hence invite activists, geographers, architects, planners, and economists representing different critical approaches to discuss and develop concepts and practices that not only try to oppose and challenge the capitalist mode of production of space, but also try to go beyond it – strategies of de-commodification, re-appropriation and alternative production of space. We will look at already existing spatial actions of resistance as well as search for possibilities to further theorize them: How can these strategies and alternative practices be turned into social and political forces towards post-capitalist spaces?
---
The series Third Space (2004-2005) by Whitney Stolich numbers sixteen works, one for each pair of "twin" cities divided by the United States - Mexico borders. Each work is a pair of photographs joining two cities, not only because their images are side by side, but also because often there is an element, morphological or conceptual, extending from one to the next: be it residences with similar architectural or decorative characteristics, or twin factories of american interests advocating the utilization of cheap labor and the existing infrastructure, the works demonstrate the pressure exerted on the border by the mutual need for penetration.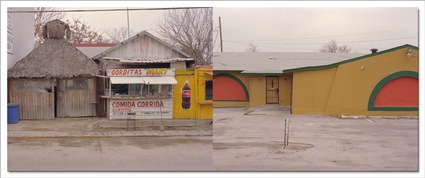 Stolich examines the creation of an informal zone where the parallel development and mutual dependence of two communities lead to cultural convergence or fusion, prevailing over the tension of the immigration limit on one of the most closely guarded borders of the planet. In this context, she locates the existence of a "third space" where the emerging economic, social and cultural effects negotiate concepts such as co-operation and internationalism, transcending the partition imposed by the political border. The final photograph in the series depicts the sky above the borderline where, inevitably, all exclusions become invisible.
---
2009: A Year of Critical Activism?
Quilian Riano, an Archinect Senior Editor and Harvard GSD blogger, pened a small essay about "renewed interest by design practices of inserting themselves into political and legal processes."
---